Previous to World War II, there was not much change in the way houses were built. Of course, indoor plumbing, central heating, and electricity were added during this period and became the norm, but the basic building materials and overall design philosophy remained basically the same. For the most part, dwellings were constructed out of the native materials available in and around a very localized area.

Considerable changes occurred in building practices after World War II. The invention of modern adhesives and synthetic plastics offered new and exciting materials such as plywood, particle board, affordable (synthetic) carpeting, micro-laminated beams capable of spanning great distances, caulk, etc. Also, better plumbing and upgraded electrical service greatly added to the comfort and safety of a home. Still, while great changes and upgrades in building materials were made during this period, much of the overall design philosophy of homes remained the same.

With the energy crisis of the 1970's, an entirely different building design philosophy began to take hold. In order to save energy, building "energy efficient homes" was the craze, and several government-subsidized weatherization programs were instituted virtually overnight. In the zeal to button up every crack, we sealed our homes without thought of the importance of fresh air and proper ventilation.

Many of the newly invented building materials in use, have ingredients that "out-gas" (give off fumes). The new, tight, energy efficient homes we started to build did not allow for the escape or dilution of these indoor pollutants, thereby creating a whole host of problems. Also, hidden moisture problems due to overly tight construction (inside wall cavities, attics, etc.) began to surface, which were leading to an increasing incidence of mold growth, related health problems, and deterioration of the affected building materials.

Tight, energy efficient construction is an excellent idea, and saving energy is also a good idea. But fresh air and no interior moisture problems are even better ideas! All three of these concepts can be employed together, if good building practices and proper planning is done. For example, submarines and space-capsules are among the tightest and best insulated structures ever built, yet they have very good air quality. NASA and the US Navy have both used healthy materials combined with good air-purification techniques. Obviously, when building a home you cannot afford, nor do you want to build a space-capsule, but some of the same basic design philosophies can be adopted.
Mold is one of a wide variety of biological contaminants that can be found in a home, and which can potentially cause health problems. Some of these include - algae, viruses, pollen, dust mites, dander, bacteria, and fungi (includes yeast, mold, mildew, mushrooms, etc.). Shown below are three of the more common molds that can be found in homes:
While many forms of mold can present health risks, Stachybotrys chartarum rises to the top as presenting the most serious risk to humans and animals. In 1993-1994, it was linked to an unusual outbreak of pulmonary hemorrhage in infants in Cleveland, Ohio, where stachybotrys was found growing in the homes of the sick infants. Due in part to this incident, the medical community has an increased awareness of the potential dangers of molds in homes. For example, in 1997, the Journal of the American Medical Association carried a news article entitled, "Floods carry potential toxic mold disease".
If any one of the above is removed, all growth will subsequently stop. However, mold can lay dormant for many years, and if the above are re-introduced it can continue to grow again. This is why it is so important when a mold problem is found to:

1). identify the source and cause,

2). repair the problem

3). remove or kill as much of the mold as possible.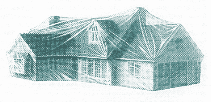 Most newer homes today are constructed using materials and methods that make them very air-tight. Many older homes that have been upgraded by installing new energy efficient windows and doors, siding, insulation, etc., can become "tight" virtually overnight. The effect can be like a giant plastic bag placed over a house, where no air can enter or escape.

Both over-pressurization and de-pressurization of the interior of a house can